David, congratulations are in order. You recently married. How was your wedding? Had you ever visited your honeymoon spot (on Vashon Island, Washington) before?
Thanks! After 22 years I can't say it was a whim, but we essentially eloped, so the wedding itself was a very low-key affair. Our friend, who lives on Vashon, got herself ordained at the last moment so that she could perform the ceremony; we jumped the broom on the beach and had the party in a nearby barn. We didn't know our witnesses or anybody at the reception afterwards. A great time was had by all.
Where did you grow up in New Zealand? Do you come from an artistic family? Were you the child everyone said would grow up to be an artist someday?
I grew up in Auckland mostly. Otara, then the East Coast Bays—I also spent a lot of time in the Coromandel. I didn't come from a particularly creative family, although my dad was something of a musician. He was in a cover band when he met my mum and charmed her knickers off. It's true I was constantly drawing as a kid, and there was some encouragement, but by the time I reached high school I had become something of a terror and my drawing compulsion had been eclipsed by a lot of mental noise. People weren't saying, "David, you're going to be an artist someday." They were saying, "Valentine, you are going to end up in jail—shortly."
You began as a film school student in New Zealand in the 1980s. What motivated you to choose the program? How did you like it?
I was interested in film, not so much for its narrative qualities but as a purely visual vehicle. I was looking for a means to recreate these "spectacles" that were erupting in my head. I thought that if I could externalize them, people could explain them to me, what they meant, if anything. There was only one film course in Auckland at the time, so that's what I did. It was a fantastic, hands-on process. You learnt every aspect of film making by working on each other's films, from loading the camera, to manning the sound desk, lighting, cinematography and editing — everything. It was incredibly instructive, and what I learnt was that film was not going to be my medium. While film was certainly articulate, it was anything but immediate, and it required a level of focus and organization that I just couldn't master at the time. I was very young, and there were just too many disruptions and distractions going on in my life at the time. I found the whole process excruciating, although I did complete my film.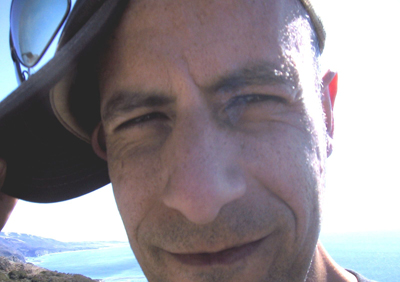 Were you also studying art or graphic design as a student in New Zealand? Or did that focus come later?
Graphic design came later, though I did study a little tech-drawing in high school. I was working at a Buddhist hospice in San Francisco and creating rave flyers on the side. When I lost my job, the design gigs were the only income I had for a while, so I really arrived at graphic design through necessity. Graphic design is what happened to me while I was looking for a real job. I didn't really think of it as a "career" until I came a across the Designers Republic issue of Emigre. That was a revelation to me; it was one of the most exciting, arresting things I had ever seen. I was like, "I want to do that, that is what I want to do."

You are one of the co-founders of a design/activism collective. What was its founding purpose—what did you work toward establishing, or changing? How do you feel Shimako-Dominguez has impacted or influenced your community in San Francisco, and beyond?
After successive failed attempts throughout San Francisco's history to "straighten" the town up and purge the 415 of its freak-show ways, Silicon Valley was finally succeeding. SF's proximity to the tech bubble was completely transforming the city. With rents going through the roof and the cost of living driving more and more talented, creative people out, Shimako was an attempt to disrupt that dynamic. It was a creative solution for people who wanted to stay and push back. It was a way to let independent writers, photographers, artists and designers come together as a legitimate "design company" and take on large projects without sacrificing their independence and, shall we say, San Francisco lifestyles. Our accountants and lawyers came up with a profit sharing structure that worked brilliantly. It was great, for a while. But eventually the same cultural stresses straining the City began to pull on the cooperative, the suits versus the creatives. Looking back now I can also see how reactionary Shimako was in some ways, for all its progressive rhetoric, and I can't say that Shimako had much influence beyond the lives of its members, although many have gone onto very successful careers in house.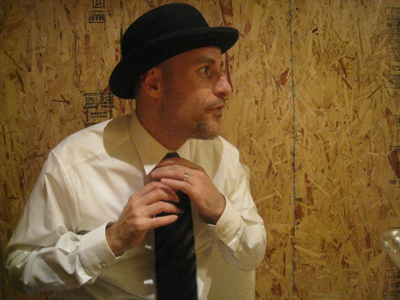 You have stated that your artistic focus "is often small, fleeting moments drawn from folklore and fairytales that are relocated to more contemporary settings." For all the scientific and technological advancement of recent decades, it almost seems like the mythical, surreal and fantastical are an escape for us, a breath of fresh, unpolluted air. Would you agree?
I would not. As Arthur C. Clark once said, "Any sufficiently advanced technology is indistinguishable from magic". I think part of my attraction to fables is how well they describe the here and now. They—like this time—are full of wonder. We can all witness an event simultaneously across the globe. I can pull a little stone-like object out of my pocket and ask it any question. This is some very big juju—it verges on the mystical for me. I am perpetually astonished, and these stories share my astonishment.
How did you come to use particle board in the way that you do? And how have viewers of your work reacted to its use?
I like its humbleness and the way it talks about work and labor. I have always loved the way it looks equally simple and complex. The variations in tone and color along with the particle "leaves" always remind me of some sort of dense, dry thicket or jungle. When I tell people that I work with OSB they mostly just blink.

Your work "Black Madonna" always makes me laugh and smile. It's such a joy and a pleasure. What has your viewer feedback on the piece been like?
People seem to really like it, especially people who generally find my work too dark.

Can you name some galleries, programs, and collectives in your area, as well as some up-and-coming artists, for us to watch?
I've noticed a bunch of San Francisco art collectives folding recently, very sad, although Revel Arts says that they're simply on hiatus and the Jimmie Gallery in Oakland seems to have transformed into Coop. My go-to art galleries in the city have always been Fabric8, Varnish and the always amazing 111 Minna, which has been raising their singularly pitch-perfect voice since way back in the day; I just caught David Choong Lee's solo exhibit there—monumental! Two local artists that I'm fixated on lately are Dana Harel, whose graphite on paper work I hope to someday own, and Monty Guy—whose work is just so wrong on so many levels. I'm also a big fan of Kirk Maxson; his piece "War" at the Eli Ridgeway Gallery right now manages to be both ephemeral and indelible.