How old were you when you realized you were an artist?
By the time I was 15, I already claimed that I was going to be a artist when I grew up. At 15 I wasn't quite sure what that meant, but I knew I wanted to make things. I had a renewed artistic awaking in 2001 when I was laid off from work and was encouraged by my boyfriend to focus on my painting and not rush back to look for a job. I realized again during this time that I was an artist. I think realizing that I am a artist is something that comes back every so often.
What was your art education like growing up in Los Angeles?
By the time I got to high school I already knew that art and fashion were things I was interested in. I wanted to know as much as I could about the artist's lifestyle. My art teacher picked up on that quickly after I asked her my freshman year if she could teach me how to silkscreen like Andy Warhol. She took me under her wing and awarded me Saturday scholarship classes to Otis and to Art Center College of Design in Pasadena.
After high school I applied to the fashion program at Otis, as sewing has always been a part of my creative palette. My counselor persuaded me not to go into fashion and to reconsider the Fine Arts program because he said my portfolio was remarkable. I wasn't sure if that was what I wanted and dropped out of art school, but I have focused on painting ever since.
I went on a long spiritual journey and had to come back to art on my own. Eventually I chose to take a job at an art store in LA where I learned a lot about the various art supplies, and moved into The Parkman House in Silver Lake. I surrounded myself with like-minded, creative, beautiful sorts that shared common creative goals. If I ever needed help figuring something out for a project, I could ask my roommate, my neighbor the tattooist, or the smart boy in the Fine Arts department to guide me. Part of the fun of being mostly self-taught is I have picked my own teachers, whether they knew it or not.
I am the type of person that likes a lot of options to choose from, and Los Angeles has always been this for me. There is much to do and learn here and I have never taken LA for granted. I am very loyal to Los Angeles—she's taught me a lot about survival.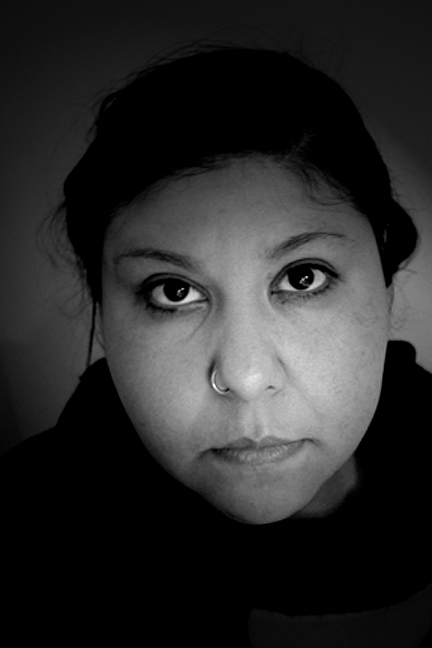 What medium do you prefer? Are there any media you haven't yet tried, but would like to?
I have worked with all kinds of media, but I always come back to acrylic, ink, pencil, wood, paper and thread. I have spent a considerable amount of time in the past few years gathering inspiration and supplies for new work. I have pushed myself to experiment, to try new things, and I have returned to visit some older loose end styles and media that I never fully saw through. I am weaving these together with what I already know. My attitude is more playful and experimental at the moment.
It seems that some of your works carry the influence of classical Japanese painting.
Thank you for noticing. Yes, I am definitely influenced. I love the open minimal space and the tight, complex stories being told in the corners of the compositions. At least this is how I think of it and how I am inspired by it.
Where did you first get your inspiration for painting onto guitars?
My brother-in-law is a master carpenter for Fender Guitar and he asked me to do something for their custom shop. After I did the first one I was asked to do a few more. It's fun to see how the guitar transforms after he makes the basic body and then I paint it and then he finishes building around what I've painted. It was a good project to get me back into painting after having to take a break from art.
Were you commissioned to do this, or was it something you just wanted to do?
I was commissioned to do this and it was something I wanted to do. I like the idea of morphing music and art into one. It's exciting to think that my painting can be strummed.
Are you working on any pieces at the moment?
Yes, I am working on a new series. I find that if I don't make a goal then I will go around and around on the mouse wheel. I am definitely working on changing that this year. I am also finishing some older work I started before I took a three-year break from art; my family needed me in ways I never could have imagined. I am thankful I could be there for them, but now it is back to Lysa and her artwork.
I'm also finishing up some older things I feel the need to finish. A lot of it is experiment. It will be interesting what stays, and what gets cut out. I always think I know what something will look like in the end, and it always ends up going another direction.
I am working with some new media like clay, different types of paper, wood, found objects, sound, video, and photos as well as what I already am comfortable working with. I am very inspired by little gatherings, ruins, stockings, nests and all things feathery. I'm very into art imitating nature right now, and have been collecting objects I find on my walks, or around the garden and yard: bones, twigs, hard leaves, branches…stuff that looks cool. I use these things to create small-scale sculptures, much as birds are making nests all the time, using what is found in nature. I am fascinated with the talismans we take back to our personal space and how we tangle those threads together as a protective nest.
I have been spending a lot of time with my nephew and niece making art projects and music. I feel they are teaching me just as much as I am teaching them. Its fun to be playful again, with big messes to clean up. I like seeing paint on their hands and mine, under the nails, drips of paint on my favorite shoes or on the cat. This means that I am working again if I let paint hit my shoes, as shoes are pretty sacred in my house, as is the cat. :)
For you, who are some up-and-coming artists or musicians to look for in Los Angeles?
Carmen Luceno is one of my favorite photographers, with an amazing eye, who shoots a lot of Holga. Carla Tome is this rich abstract painter/ceramicist. Dania Heller of The Hellers who has this stunning fashion line must be mentioned. Dorian Wood is this fascinating, soulful, experimental folk musician—to see him live is divinely breathtaking. And if you want to listen to something electronic/experimental/fresh and sophisticated, then you should check out Ion Driver.